Happy Friday!
How has your week been? I hope you're staying warm! We've had some chilly and icy weather here last weekend, I made yummy homemade chicken noodle soup per my daughter's request and just enjoyed being home. And I finally took the time for a little re-organization in my craft room. This whole week it's been snowing on and off and I'm hoping for some calmer weather next week.


Since the weather wasn't playing along last weekend, we took today's outfit pictures inside (I always take outfit pictures the weekend before my Friday fashion posts). I'm ok with how they turned out and it surely beats the strange looks we're getting when taking photos outside in winter with no coat on :-) Not that I really care, but it's just a little weird.


Please note: This post includes some affiliate links, meaning I may earn a small commission if you purchase something through the links. As always, this is at no cost to you. Thank you so much for your support!
I didn't really plan on buying a new sweater, but somehow I ended up checking out
Nordstrom's Winter sale
and found a pretty
Cashmere sweater
at 50% off. I do have another cashmere sweater that I love and wear a lot (hard to believe I've not shown you an outfit with it yet!) but my brain has been "wishfully thinking of spring" and I thought the pretty purple would be a great color to wear now and into spring when it's still chilly outside.
I was actually first drawn to the Blue Mazarine colored sweater (see below), it reminded me of one of my favorite Distress Ink color -
Blueprint Sketch
. I think this blue would look amazing worn with white jeans!! However, since I wear blue jeans about 90% of the time, I thought the purple would coordinate better.
But isn't this a gorgeous color!!!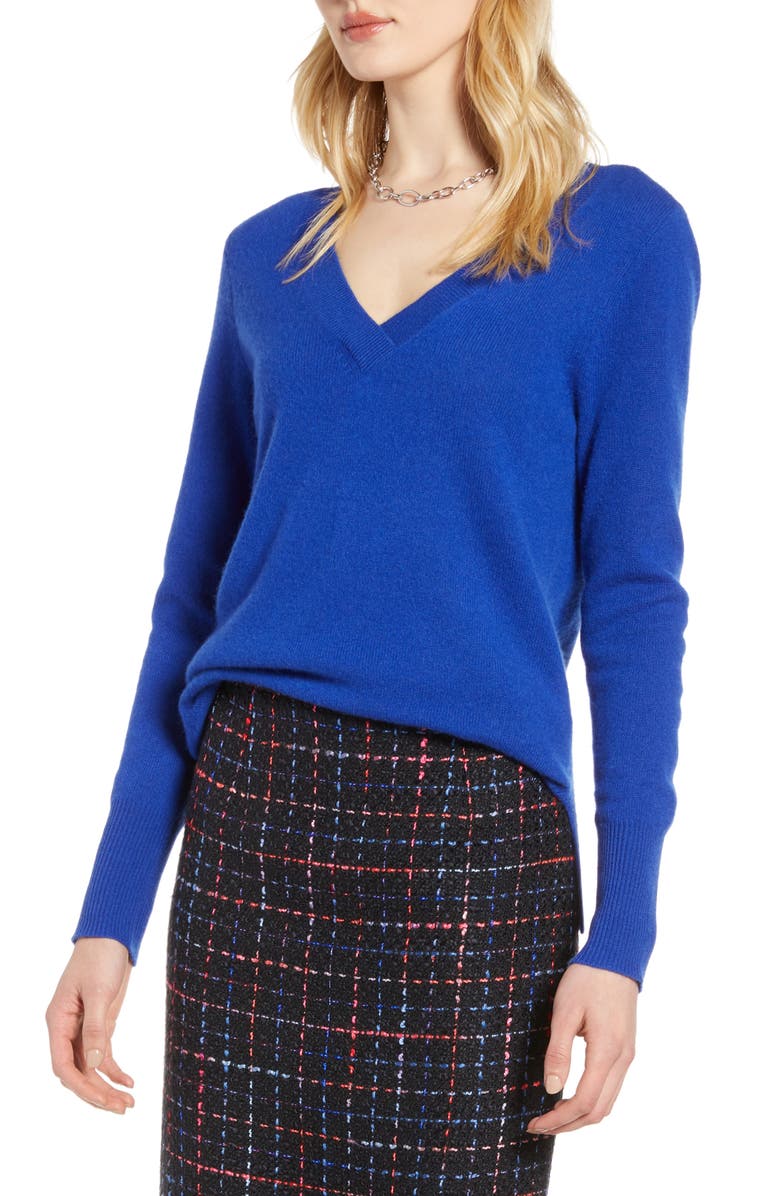 This sweater is 100% cashmere but it's on the thinner side, which is probably the reason why it's more affordable than some cashmere. That said, I think it's perfect for early spring weather and can easily be worn under a coat or jacket.
I chose to wear boot cut jeans from White House Black Market (
very similar option
) I picked up on clearance years ago but rarely wear them because they are a little too long on me. I should probably get rid of them but I love the wash and how they fit otherwise. They would look better with higher heels, but if you've followed my outfit posts, then you'll already know that I rarely wear heels. Here I am wearing my Clark's ankle boots (old -
similar style
) that do have a little bit of a heel and I do wear these regularly as they are very comfortable.
Since I'm short, the sweater is a little bit longer on me than I prefer. In the above picture I tucked it in the front to change up the look.
The two pictures above aren't the best quality but I tried to get a picture of the pretty v-neck in the back.
How I care for cashmere sweaters:
I simply h
and wash
using
Woolite Delicates
in cool water, then rinse in cold water. It's important to note that warm water will cause your cashmere to shrink.
Do not twist the sweater
to remove the water! I simply hold the sweater over the tub and squeeze the water out as I move my hands up and down.
Using a dry towel, you can now roll up the sweater in the towel (roll up like a yoga mat), and squeeze more water out of it as you roll it up. (I don't always do this.)
Lay flat to dry
.
If wrinkles are present after drying, you should
use a steamer
. I don't own a steamer so I use the steam option on my iron instead. But do not press down the iron, just apply the steam from about an inch or so above the sweater. You can lay a damp cloth (like a cotton dishtowel) over the sweater and iron it through the cloth on low heat setting.
Cashmere (and any kind of knit sweaters)
should always be folded
and never hung up on hangers. Be sure the sweater is completely dry before folding.
Most sweaters do pill at some point and I have been using
this sweater stone
on them with good results. Then of course, as with all knits, cashmere sweaters should also be folded and not hung up on hangers.
Please note: My Cashmere sweaters do say "Dry Clean" but this is the method I use. I am not an expert so please be careful with your expensive cashmeres, I just wanted to share what works for me.
Below I've linked up a few cashmere sweaters I found on sale from Nordstrom. Remember, shipping and return shipping is always free through Nordstrom.

As a reminder, these and some of the links above are affiliate links.


Thank you so much for stopping by! Hope you enjoy your weekend!
Btw, you can also find me here:
You can also use the "follow by email" function on the blog's sidebar to receive a notification when a new post goes live.