Hello and welcome to another one of my Fashion Friday posts where I share my take on Fashion Over Forty. These posts are always a little weird for me to write, as my style is rather repetative and yes, boring, and I've definitely been thinking about not doing them any longer but when I see that these posts somehow usually get much more views than my handmade cards get, then I can tellt there is an interest in seeing casual everyday styles. But for today's post I'm taking a break from my usual blue jeans and showing you another outfit wearing velvet pants.
*This post includes affiliate links, meaning I may earn a small commission if you purchase something through the links, at no cost to you! Thank you so much for your support!*
For today's post I've paired the velvet pants with a pretty floral blouse in a faux wrap style. It's not a top I wear often, but something I like to have in my closet. This top is old and unfortunately no longer sold at White House Black Market. I did find the exact one in
this listing
on eBay, but as it is with eBay there is only one available in a size 8. (It runs true to size, I'm wearing a size XS in most tops, this top is a size 0) According to the WHBM site, size 8 is Medium.
The blouse is lined (sleeves are unlined) and as you can see below it's longer in the back than it is in the front.
These
black velvet skinny pants
are from LOFT. I've styled them before in
this
and
this
post, and they are
still available
, currently
marked down an extra 50% off the sales price
which bring them to less than $35. The soft velvet is perfect for the colder months and a great way to dress up an outfit for a special occasion, or dress them down by wearing a simple sweater and ankle boots.
For footwear I decided to wear my burgundy pair of Clarks heels. (Old, I've mentined them before in
this post
), but DSW always has lots of choices and free shipping on orders of $35 and up if you're looking to update your shoes.
Here's what I found
in the "Burgundy Pumps" section. Amazon also carries Clarks shoes...
I'm wearing a silver necklace with my birthstone charm (Ruby), I've had for a long time. Unfortunately it's hard to see - I wish the chain was shorter! I have no idea where mine came from, but it might have been from JCPenney, as they have a
great selection
of birthday jewelry. There are also some great birthstone necklace options available at
Nordstrom
at various price points. Just don't get an opal stone unless it's your birthstone. I heard it's bad luck unless it's your birthstone. Funny story: Many years ago I purchased an opal ring for myself from QVC, only to find out about the bad luck, well I didn't need any of that in my house, so I promptly returned it :-) I'm not really superstitious but why risk it??!!😄
Exact Pants and Exact Top: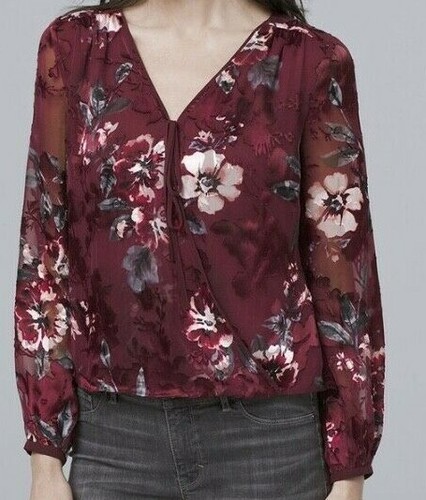 Pants available in regular & petite sizes)
(top unfortunately only available in size 8 from eBay)
Below I've linked to a few blouse options for those of you interested. Remember these and some of the above links are affiliate links.
My White House Black Market Picks:
($6.95 Standard Shipping)
More White House Black Market Tops
HERE
My Nordstrom Picks:
(always free shipping and free return shipping)
More Blouses at Nordstrom
HERE
My Nordstrom Rack Options:
(free shipping on orders over $89)
More Blouses from Nordstrom Rack
HERE
As always thank you so much for stopping by!!
Btw, you can also find me here:
You can also use the "follow by email" function on the blog's sidebar to receive a notification when a new post goes live. I do share papercrafts in addition to my fashion over forty posts, so keep in mind that you would receive a notification for both types of posts.